Skip to product information
Fabric: 100% Royal Alpaca Wool
Fabric Dye: Low Impact Dyes (GOTS)
Fabric Finishing: Silicone (OEKO-TEX)
Thread Dye: Reactive Dye
Label: 100% Organic Cotton
Label Ink: Synthetic (GOTS)

Materials

Fabric: 100% Royal Alpaca Wool
Fabric Dye: Natural Plant-Based
Fabric Finishing: Silicone (OEKO-TEX)
Thread Dye: Natural
Label: 100% Organic Cotton
Label Ink: Synthetic (GOTS)

Materials

Fabric: 100% Royal Alpaca Wool
Fabric Dye: Low Impact Dyes (GOTS)
Fabric Finishing: Silicone (OEKO-TEX)
Thread Dye: Reactive Dye
Label: 100% Organic Cotton
Label Ink: Synthetic (GOTS)

Materials

Fabric: 100% Royal Alpaca Wool
Fabric Dye: Natural Plant-Based
Fabric Finishing: Silicone (OEKO-TEX)
Thread Dye: Natural
Label: 100% Organic Cotton
Label Ink: Synthetic (GOTS)

Materials

Fabric: 100% Royal Alpaca Wool
Fabric Dye: Low Impact Dyes (GOTS)
Fabric Finishing: Silicone (OEKO-TEX)
Thread Dye: Reactive Dye
Label: 100% Organic Cotton
Label Ink: Synthetic (GOTS)

Materials

Fabric: 100% Royal Alpaca Wool
Fabric Dye: Natural Plant-Based
Fabric Finishing: Silicone (OEKO-TEX)
Thread Dye: Natural
Label: 100% Organic Cotton
Label Ink: Synthetic (GOTS)

Materials

Fabric: 100% Royal Alpaca Wool
Fabric Dye: Low Impact Dyes (GOTS)
Fabric Finishing: Silicone (OEKO-TEX)
Thread Dye: Reactive Dye
Label: 100% Organic Cotton
Label Ink: Synthetic (GOTS)

Materials

Fabric: 100% Royal Alpaca Wool
Fabric Dye: Natural Plant-Based
Fabric Finishing: Silicone (OEKO-TEX)
Thread Dye: Natural
Label: 100% Organic Cotton
Label Ink: Synthetic (GOTS)

Materials

Fabric: 100% Royal Alpaca Wool
Fabric Dye: Low Impact Dyes (GOTS)
Fabric Finishing: Silicone (OEKO-TEX)
Thread Dye: Reactive Dye
Label: 100% Organic Cotton
Label Ink: Synthetic (GOTS)

Materials

Fabric: 100% Royal Alpaca Wool
Fabric Dye: Natural Plant-Based
Fabric Finishing: Silicone (OEKO-TEX)
Thread Dye: Natural
Label: 100% Organic Cotton
Label Ink: Synthetic (GOTS)

Materials

Fabric: 100% Royal Alpaca Wool
Fabric Dye: Low Impact Dyes (GOTS)
Fabric Finishing: Silicone (OEKO-TEX)
Thread Dye: Reactive Dye
Label: 100% Organic Cotton
Label Ink: Synthetic (GOTS)

Materials

Fabric: 100% Royal Alpaca Wool
Fabric Dye: Natural Plant-Based
Fabric Finishing: Silicone (OEKO-TEX)
Thread Dye: Natural
Label: 100% Organic Cotton
Label Ink: Synthetic (GOTS)

Materials

Fabric: 100% Royal Alpaca Wool
Fabric Dye: Low Impact Dyes (GOTS)
Fabric Finishing: Silicone (OEKO-TEX)
Thread Dye: Reactive Dye
Label: 100% Organic Cotton
Label Ink: Synthetic (GOTS)

Materials

Fabric: 100% Royal Alpaca Wool
Fabric Dye: Natural Plant-Based
Fabric Finishing: Silicone (OEKO-TEX)
Thread Dye: Natural
Label: 100% Organic Cotton
Label Ink: Synthetic (GOTS)

Materials

Fabric: 100% Royal Alpaca Wool
Fabric Dye: Low Impact Dyes (GOTS)
Fabric Finishing: Silicone (OEKO-TEX)
Thread Dye: Reactive Dye
Label: 100% Organic Cotton
Label Ink: Synthetic (GOTS)

Materials

Fabric: 100% Royal Alpaca Wool
Fabric Dye: Natural Plant-Based
Fabric Finishing: Silicone (OEKO-TEX)
Thread Dye: Natural
Label: 100% Organic Cotton
Label Ink: Synthetic (GOTS)

Materials

Fabric: 100% Royal Alpaca Wool
Fabric Dye: Low Impact Dyes (GOTS)
Fabric Finishing: Silicone (OEKO-TEX)
Thread Dye: Reactive Dye
Label: 100% Organic Cotton
Label Ink: Synthetic (GOTS)

Materials

Fabric: 100% Royal Alpaca Wool
Fabric Dye: Natural Plant-Based
Fabric Finishing: Silicone (OEKO-TEX)
Thread Dye: Natural
Label: 100% Organic Cotton
Label Ink: Synthetic (GOTS)

Materials

Fabric: 100% Royal Alpaca Wool
Fabric Dye: Low Impact Dyes (GOTS)
Fabric Finishing: Silicone (OEKO-TEX)
Thread Dye: Reactive Dye
Label: 100% Organic Cotton
Label Ink: Synthetic (GOTS)

Materials

Fabric: 100% Royal Alpaca Wool
Fabric Dye: Natural Plant-Based
Fabric Finishing: Silicone (OEKO-TEX)
Thread Dye: Natural
Label: 100% Organic Cotton
Label Ink: Synthetic (GOTS)

Materials

Fabric: 100% Royal Alpaca Wool
Fabric Dye: Low Impact Dyes (GOTS)
Fabric Finishing: Silicone (OEKO-TEX)
Thread Dye: Reactive Dye
Label: 100% Organic Cotton
Label Ink: Synthetic (GOTS)

Materials

Fabric: 100% Royal Alpaca Wool
Fabric Dye: Natural Plant-Based
Fabric Finishing: Silicone (OEKO-TEX)
Thread Dye: Natural
Label: 100% Organic Cotton
Label Ink: Synthetic (GOTS)

Materials

Fabric: 100% Royal Alpaca Wool
Fabric Dye: Low Impact Dyes (GOTS)
Fabric Finishing: Silicone (OEKO-TEX)
Thread Dye: Reactive Dye
Label: 100% Organic Cotton
Label Ink: Synthetic (GOTS)

Materials

Fabric: 100% Royal Alpaca Wool
Fabric Dye: Natural Plant-Based
Fabric Finishing: Silicone (OEKO-TEX)
Thread Dye: Natural
Label: 100% Organic Cotton
Label Ink: Synthetic (GOTS)

Materials

Fabric: 100% Royal Alpaca Wool
Fabric Dye: Low Impact Dyes (GOTS)
Fabric Finishing: Silicone (OEKO-TEX)
Thread Dye: Reactive Dye
Label: 100% Organic Cotton
Label Ink: Synthetic (GOTS)

Materials

Fabric: 100% Royal Alpaca Wool
Fabric Dye: Natural Plant-Based
Fabric Finishing: Silicone (OEKO-TEX)
Thread Dye: Natural
Label: 100% Organic Cotton
Label Ink: Synthetic (GOTS)

Materials

Fabric: 100% Royal Alpaca Wool
Fabric Dye: Low Impact Dyes (GOTS)
Fabric Finishing: Silicone (OEKO-TEX)
Thread Dye: Reactive Dye
Label: 100% Organic Cotton
Label Ink: Synthetic (GOTS)

Materials

Fabric: 100% Royal Alpaca Wool
Fabric Dye: Natural Plant-Based
Fabric Finishing: Silicone (OEKO-TEX)
Thread Dye: Natural
Label: 100% Organic Cotton
Label Ink: Synthetic (GOTS)

Materials
Fabric: 100% Royal Alpaca Wool
Fabric Dye: Low Impact Dyes (GOTS)
Fabric Finishing: Silicone (OEKO-TEX)
Thread Dye: Reactive Dye
Label: 100% Organic Cotton
Label Ink: Synthetic (GOTS)
Materials
Regular price
€140,00
Sale price
€155,85
Unit price
per
Sale
L'alpaga surpasse le mérinos
Les fibres d'alpaga se sont adaptées depuis des millénaires aux conditions extrêmes des Andes péruviennes pour vous protéger lors de toutes vos aventures.
Des fibres semi-creuses uniques et innovantes
• Plus légères
• Une meilleure isolation
La texture de fibre la plus douce
• Évacuation de l'humidité
• Plus doux sans traitement
Des fibres haute performance
Emportez moins, voyagez plus.
Découvrez les performances ultimes de la fibre naturelle et profitez pleinement de la nature. Restez propre et au sec lors de vos explorations en extérieur grâce à la laine d'alpaga, naturellement antibactérienne et régulatrice de température.

❊ Anti-bactérien & Résistant aux Odeurs
↻ Haute Évacuation de la Transpiration
☁ Haute respirabilité
☀ Protection - Uv
✓ Légère et durable
Un monde sans microplastiques
Nous disons stop à la pollution plastique !
Notre mission est de créer des vêtements qui vous permettent d'explorer la nature sans la contaminer avec des microplastiques.
Ceci marque notre premier pas pour rendre notre collection entièrement exempte de pétrole et 100% biodégradable."
Nous n'utilisons que des matériaux biodégradables :
• Tissu 100% en laine d'alpaga royal
• Fils 100% en coton
• Étiquettes 100% en coton
Shipping & Returns

Free Frakt for US orders over $200 that are purchased from our US warehouse.*

*Items stocked in Peru will occur a shipping fee. This fee includes customs & duties.
View full details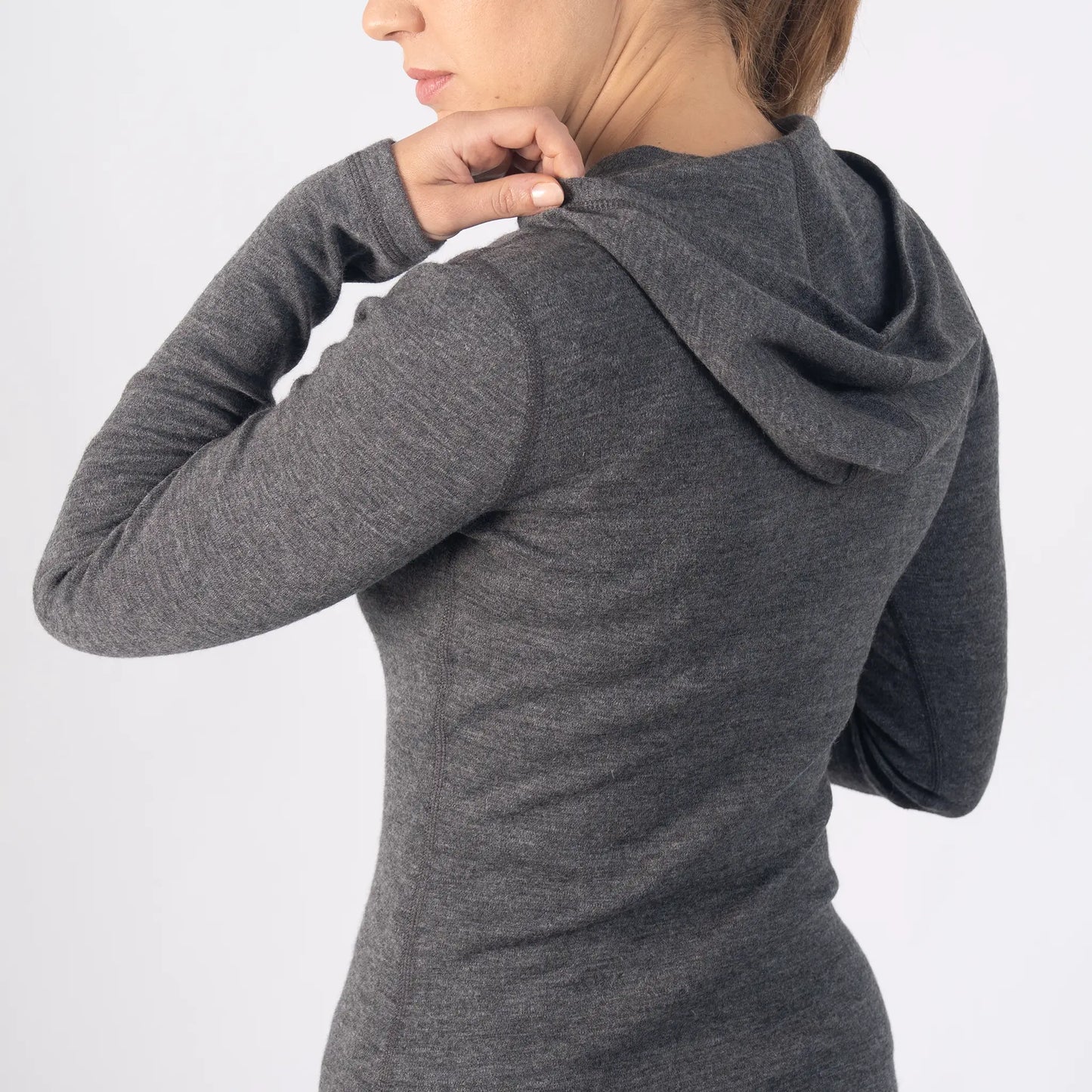 MOINS DE POIDS, MOINS DE LAVAGE
Lightweight Sweater
This Women's Alpaca Wool Sweater is constructed from 100% Royal Alpaca and offers superior warmth and performance - while remaining lightweight and breathable. It's also one of the most sustainable materials available. Made in Peru, with moisture wicking technology, you stay warm and dry when active.
HAUTES PERFORMANCES NATURELLES
Moisture-Wicking Sweater
Pendant des milliers d'années, les alpagas se sont adaptés aux environnements extrêmes des montagnes des Andes, où les températures varient considérablement. Les conditions difficiles de ces hautes terres ont donné naissance à la fibre extérieure ultime, supérieure au mérinos, conçue pour vous protéger été comme hiver, vous garder au propre et vous offrir un confort optimal pour la randonnée et le sport.
LA LAINE D'ALPAGA : LA FIBRE DES DIEUX
La fibre ultime pour toutes les activités de plein air
La laine d'alpaga est le choix optimal pour les activités en plein air, surpassant ainsi toutes les autres fibres telles que la laine mérinos, le coton, le polaire, la rayonne et le polyester.
LOW ENVIRONMENTAL IMPACT
The Most Sustainable Sweater
En choisissant des vêtements 100% en laine d'alpaga, vous optez pour une option plus durable et écologique, vous permettant de réduire votre impact sur l'environnement.
SINGLE ORIGIN SUPPLY CHAIN
Where Was This Sweater Made?
Nous utilisons des ressources locales et une chaîne d'approvisionnement courte et transparente. Notre mission est de vous informer sur tout ce que nous savons sur la fabrication des vêtements. Ensemble, nous pouvons conduire l'industrie de la mode vers un avenir durable.
Complétez Votre Pack Randonnée
300 Lightweight Half-Zip
from €150,30
300 Lightweight
from €116,90
160 Ultralight Base Layer
from €94,70